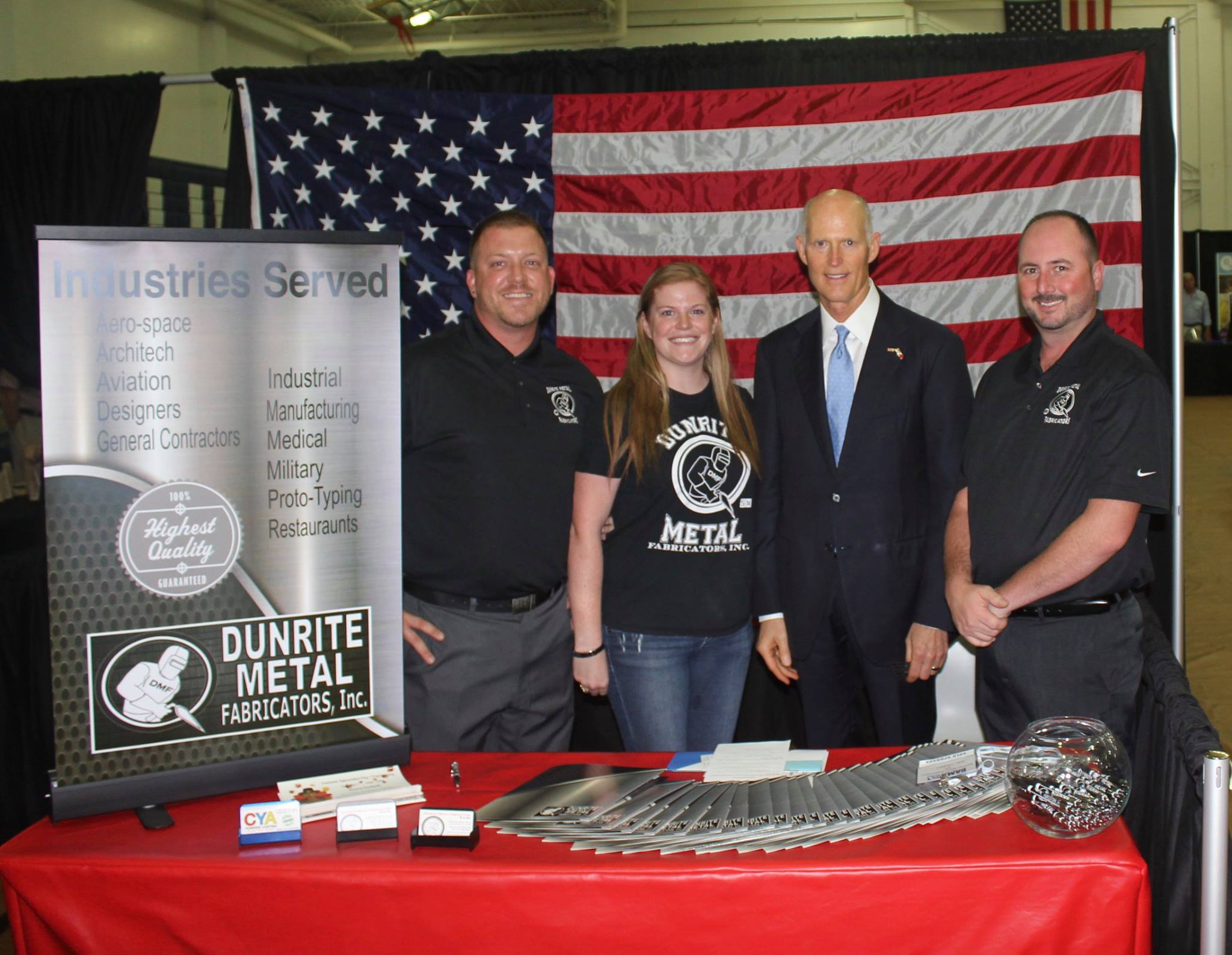 Your Go To For Specialty Sheet Metal Fabrication
Dunrite Metal was founded in 1989 by David M Lingenfelter. He is a third generation sheet metal fabricator. He was born in Niagara Falls NY. After graduating high school he attended college and majored in electrical engineering. He found this to be a bit tiresome and needed more of a challenge for his creative heart. He then started working as an apprentice in the sheet metal field. He worked along side his father, Donald Lingenfelter on extremely large factory projects. He also worked with his grandfather Don Argy (Argy and Son's Sheet Metal) in Niagara Falls NY. He was very committed to becoming a full journeymen in his trade. When he completed his apprenticeship he was headhunted by a number of large companies to become senior tradesmen for their companies. The cold winters became to much for him and he needed a change of scenery, which implored him to move him and his newlywed wife, Kat, to sun shiny Largo, FL. Upon moving down they had little to start with and David had to do what he could to make ends meet. He found a couple of labor jobs and did what he had to do to prosper for him and his growing family. Finally after a tireless search for something solid he ended up at Tack and Warren sheet metal in downtown Clearwater, FL. After proving his worth to his new company he was promoted to the sheet metal shop supervisor. They set new goals and he smashed them. They told him quotas and he exceeded them. He was now not only knowledgeable in the trade of sheet metal but was becoming rather acclimated in the business aspect. This spurred him to start to imagine a company where he was in control of the entire process. This in turn brought about the creation of Dunrite Metal Fabricators, Inc.

David and his then partner, Steve, incorporated Dunrite Metal Fabricators, Inc. in 1989. They had a humble beginning in a small 1500 square foot shop and specialized in layout and bodywork. This led to all sorts of exciting avenues to be discovered. They did stretch limo modifications and all sorts of custom projects. They were becoming a go to in the area for specialty sheet metal fabrication. As the years passed the partnership fizzled and Steve was bought out of his contract.

Now this is where things get interesting. David now had full control of the direction of DMF, Inc. David had a new energetic resolute to get to the next level. More employees were hired/trained and set loose on all sorts of really eccentric projects ranging from gigantic copper dome caps to custom desalinization machines for the United States government. This gave David a very great sense of accomplishment, he not only was a success in his chosen field but he was employing more than 20 people with an above average track record.
The years went by with all forward motion. This led to having to increase the production facility to a twenty thousand square foot complex in Clearwater, FL.
Dunrite Are A Premier Fabrication Facility Celebrating 28 Years In The Industry
"As of 2017 Dunrite Metal Fabricators Inc. celebrated 28 years in business. We have withstood financial pitfalls in the economy, extremely trying projects, and some business hiccups. Nevertheless, we are tougher, more diligent, and industry intelligent from all we have experienced. We have roots in the Pinellas County area. We are a premier fabrication facility.
If there is a project that the other metal houses can not handle, we are here to consult, design, and fabricate. With a complete sense of confidence that there is nothing we cannot make."

Dunrite Metal Fabricators, Inc. is now being run by David's son Levi. Levi is full of enthusiasm and love for this business that his father started. He is a hands-on manager. His son even wants to be part of the business when he grows up.

Levi reads a book a week so that he will be the most knowledgeable person in the metal fabricating industry as well as the powder coating industry.

Levi is active several charities in the area. One of his favorite is the power tool races.

Because Levi gives added value to all his work, he has been able to get work on the SpaceX program for Elon Musk as well as other important people. He goes that extra mile.

Our hats off to Dunrite Metal Fabricators for their dedication to the local area, to the state to this country. Their family values and traditions are what makes this country strong something we can be proud of.