Posted By Nicole On Monday, December 28, 2015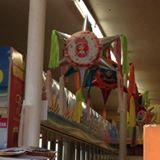 Mexico Lindo is a Latino supermarket as well as a restaurant. They serve warm food during lunch and dinner. We eat there all the time. The price is good and the burrito's HUGE.

There are not that many latino supermarket in Clearwater area, this is so far the biggest one. We are excited because they sell guayabas, nopales, sopitas, sticks of canela, fresh corn tortillas and on top of that, they have a Mexican bakery.

They are located at 812 Court St., Clearwater, FL 33756. Stop by for lunch or dinner.