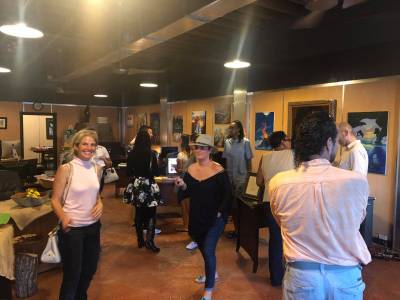 Clearwater Artwalk Really Showed The Local Talent We Have
Last Friday at 6-9 Buzzazz transformed into an art gallery. We have a pretty aesthetic looking office as is, with art themed around the western frontier on one wall, and showbiz and sport on the other. But Friday was something else.
In collaboration with Seahorse Gallery, we had original work by world renowned artists Jim Warren and Dick Zimmerman which represents a real masterclass in the medium. From Jim we had some of his instantly recognizable pieces, like Cheeseburger In Paradise and Goddess Of Fire And Ice. Dick Zimmerman was represented by Keith Richards and Al Pacino, among others.
We had beautiful work by Kim Braun and CapeBuffalo Furniture, and some amazing sculptures by Adi Ben Dov. The energy in all these pieces leapt out at you, and were very popular with people who visited us.

There Really Is A Love Of Art And These Kinds Of Events
We had some fantastic local artists who were also displaying some great art. Taylor Mack had some vibrant and intensely dream-like paintings. Natasha Grimsley's work gave us ink and watercolor fantasy. Jame's Makan provided us with some very popular sketches of beautiful women.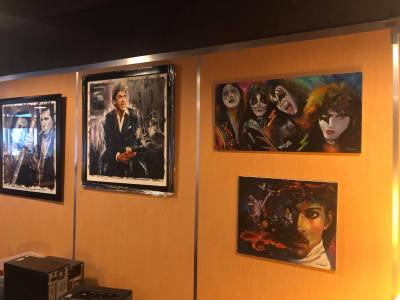 We had live music from Milton James, who gave us blues and soul. Judy Bachar sang for us, and treated Cleveland Street to some beautiful opera.
As if this wasn't enough, we had great refreshments and great conversation, and an all round amazing evening.
If you missed this one, the good news is that it is happening again on August 31st. So, you have to come along!