The arts are important--I don't think anyone would argue against that. Which is why it's such a cool thing that Clearwater now has its very own center for it.
Located on Cleveland Street in Clearwater, the Clearwater Center for the Arts resembles, at least in my opinion, a miniature art museum. The walls are covered in paintings of all different sizes and shapes, each one beautiful and vibrant, and best of all, made by local artists. Not only is the place somewhere you could easily spend a half-hour wandering with a smile on your face, you can also take the artwork home with you. Everything's for sale, and at reasonable prices.
Additionally, the center also has a host of events going on at any given time, ranging from thespian to poetic. And with the frankly jaw-dropping stage in the back of the Center as a platform to perform on, I can't think of a better place in the city for these events.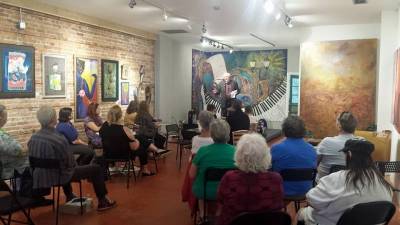 So, if you're looking for a little art in your life, or want to help support the creativity of this city, consider giving the Clearwater Center for the Arts a look!
---
If you liked this article, you can read more of Brandon Scott's work over at The Hive, or on his website: www.coolerbs.com.