Saturday the 26th of September marks a date for downtown Clearwater in which our Renaissance went to another level. The Marlene Rose Art Gallery Grand Opening was nothing short of Spectacular!
Mayor Cretekos and other dignitaries were on hand as well as a large array of collectors from around the world. The Mayor compared this event to having our very own version of "Chihuly".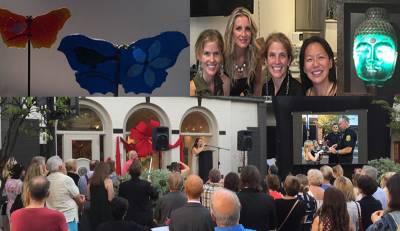 Marlene in her elegant manner expressed to the crowd how when people first view her work, she is often told they fell a "certain aliveness inherent in the work itself. Her goal as an artist is to inject life into whatever she can make. In simple terms to make the piece come alive.
Each piece is hand cast from molten glass in a spectacular process of heat and light. The energy of this "Dangerous Dance of Creation" reflects in the finished work. Even the light showers brought a beautiful rainbow to the party - it seemed the God's were adding their own touch of "prism" to the show.